While now is the time to focus on patient nutrition, clinicians must understand that effective care requires a team approach. The Alliance to Advance Patient Nutrition wants to make collaboration and action easy for healthcare professionals: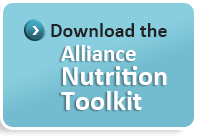 Click to download the Alliance Nutrition Toolkit. It's filled with easy-to-use resources that will help you connect and recognize malnutrition and identify ways to implement a nutrition program. The toolkit also includes helpful patient education handouts.
Attend events to learn more about patient nutrition and meet other clinicians who are working to improve patient care.
Enroll to stay in touch with the Alliance to Advance Patient Nutrition and to receive relevant updates to help you make an impact in your hospital.
Unfortunately, malnutrition continues to go unrecognized and untreated in many hospitalized patients. The interdisciplinary Alliance to Advance Patient Nutrition wants to highlight the critical role of nutrition intervention in clinical care and to suggest practical ways to promptly diagnose and treat malnourished patients and those at risk for malnutrition. Although data vary across studies, available evidence shows that nutrition intervention can improve patient outcomes. The key is to systematically identify patients who are malnourished or at risk and to promptly intervene.